First DMX blew off his fans by postponing a bunch of shows. Then he flew to California and checked into rehab. And of course it was all followed by the usual management apology to fans. This reads like the re-run of every drugged up rapper's life story. You'd think that at age 46 this guy would finally get it together. Nope... X that thought! And now he's at it again!
UPDATE: Since we originally put this mook on display here at Into Rehab (see DMX Arrested and our recent rehab-piece below) DMX has added tax evasion and violating bail conditions to his rap sheet. And after his latest legit gig in Atlanta fell through DMX, clever boy that he is, opted to enter rehab once again rather than return to house arrest.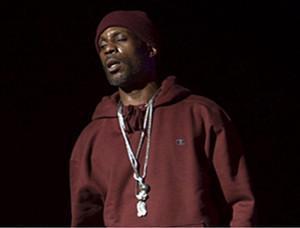 This rapper, whose real name is Earl Simmons, has a rap sheet as long as... well... a Wikipedia page... which is where we found it! Since becoming a public figure, DMX's has been arrested for multiple offenses including: resisting arrest, animal cruelty, reckless driving, unlicensed driving, drug possession, and identity falsification. Oh, and don't forget failing to pay child support. We won't bore you with the details. Oops... we just did!
And of course X has been to rehab before as he has battled substance abuse issues for years. His drug and alcohol problems were on full display recently. In February he was found dead in a motel parking lot - but was revived. Since he didn't stay dead no postage stamp for him. And before his recent troubled concert appearance in Brooklyn he was said to have been drinking heavily. So there you go... jail, drugs, alcohol and rehab. The man who has it all.
The three shows he had to cancel earlier this year were excused by what his rep called a "medical emergency." Ya think? His decision to get help was driven by his feeling he was "moving to a dark place" and wanted to make sure he stayed on the right path. Maybe his brush with death woke him up... sadly it took many months more.
His manager Pat Gallo apologized back then to X's fans for the "postponed" shows, with this statement, "It is important right now that he take some time off to focus on his health so that he can be a better father, friend and entertainer." He added, "We are eternally grateful for the outpouring of concern and support that has poured in. We ask that you please keep X in your prayers as he embraces your support."
DMX was twice honored at the American Music Awards as Favorite Rap/Hip-Hop Artist. We're still hoping he can return and honor the fans who support him by straightening out his act and his life.