On January 9, 2015 New York Jets running back Chris Johnson was arrested in his hometown of Orlando, Florida and charged with a second degree misdemeanor of open carry of a firearm. Uh-oh. Maybe he thought he was supposed to line up in shotgun formation!
Unlike many other states, Florida does not allow open-carry. There are a number of exceptions: when a person is engaged in hunting (well, duh!!), fishing, camping, at gun shows, or while shooting (ummm, we certainly hope it's legal then!) and finally while going to and from such activities. It's been reported that Johnson does have a license to carry a firearm concealed, but in this case he was carrying in the open. Safe to assume then that he unfortunately wasn't engaged in one of the above mentioned activities, or travelling between them. Although this is all speculative at this time, we'll anxiously wait to see how this plays out in court.
While Johnson was once considered to be one of the best running backs in football, to many of his supporters and fans his career has been somewhat of a "disappointment" in recent years. Perhaps he was packing heat in his home town for some business reasons, but again, all we can do is speculate. We do have this to say to Chris Johnson, "Hands up, don't shoot!"
Oh and one more thing. About the so called "mugshot" that's been seen circulating online, yeah, we're calling "bullshit!" on that one! Take a look below. The picture on the left is the so called "mug shot" found at the mugshots,com website (no doubt with their water mark smeared all over it.) On the right you have the same exact image that is found on the nfl.com website! Since when does a football player get arrested wearing his jersey with the same dumb look on his face from team picture day? Just sayin'!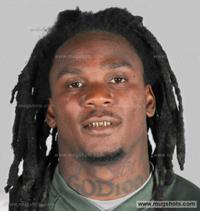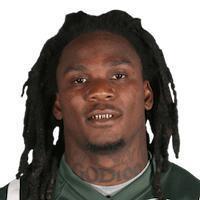 Fake Mug Shot LOL! Real NFL Picture